The Ultimate Mobile Network
Scenario: You or an organization you work with is putting together an event at a conference space or outdoor park. Consider such possibilities like a concert or festival, weekend long sporting event, or even something as timely as a temporary remote office. There is a need for:
Ticket booth / Ticket check-in scanners
Administrative work space (a few laptops running coordination/scoring/operations, maybe a printer or two)
Admin / Guest WiFi
Security cameras to overlook an area with expensive equipment
Multiple phones with extensions
VPN access to headquarters/corporate office
A professional looking live stream of the event broadcasted to a social media account.
At first glance, this list has a lot of diversity to it. Understanding the core technology that drives each item makes it easier to visualize how to accommodate almost everything inside one travel case. In the spirit of fiscal responsibility, the design should not cost more than what is is purposed to do: Supply these needs for only a few days a year, but be powerful enough to handle twice what you throw at it.
I accepted this challenge and built a box that does almost anything you would need it to do while on-site.
When I designed the Ultimate Mobile Network, four of my own requirements were:
Everything should be simple. No managed switches or complicated wiring
Any interaction with cords (plugging/unplugging items) should be done in one area only and not the front face
The total power draw should be low enough to allow a deep cycle 12V battery and inverter to run it for at least several hours
Lightweight (I did not get this wish, however. It's fairly heavy.)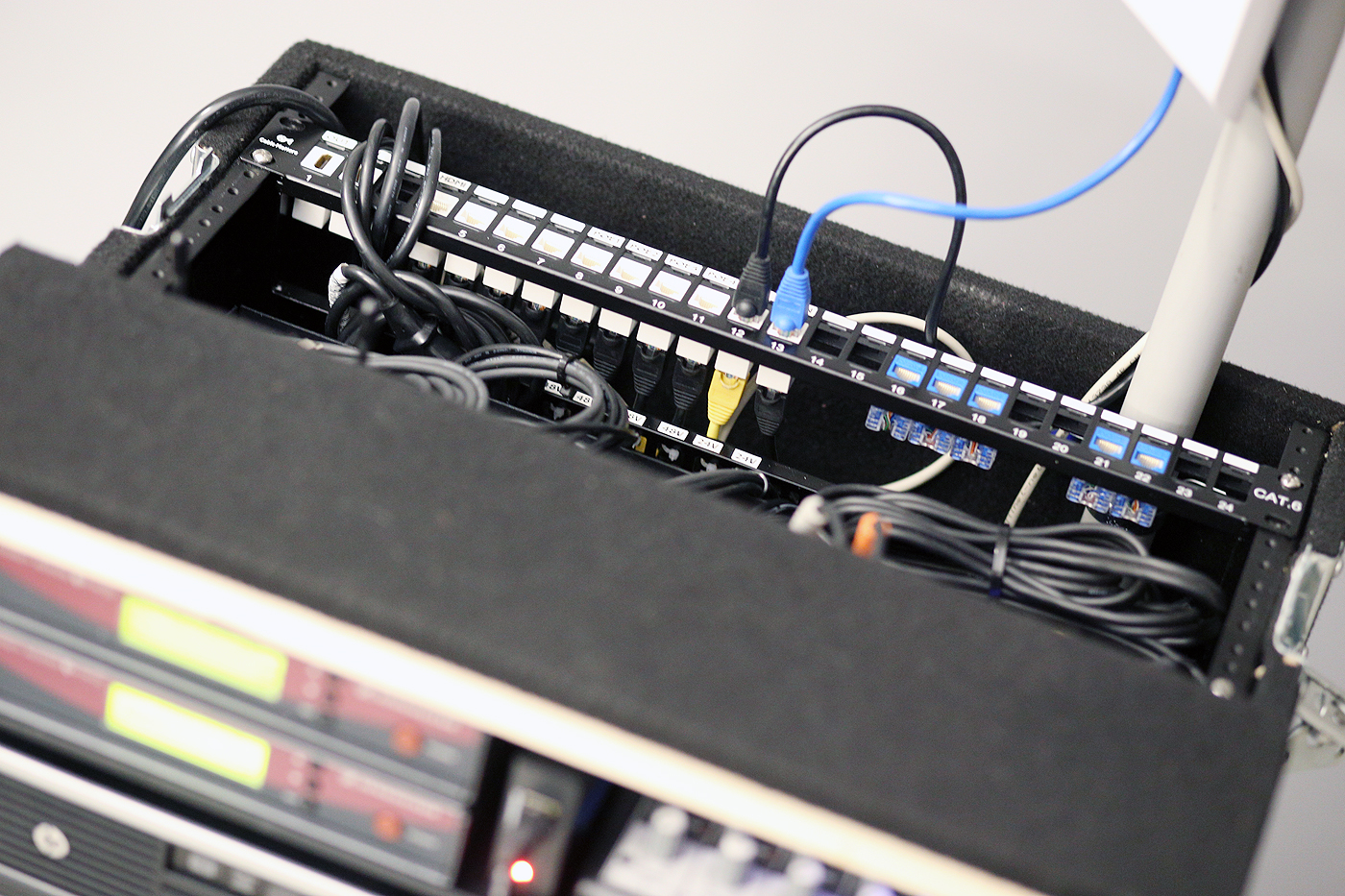 Everything including power for extra devices (monitors, chargers, etc) gets plugged in on the top rear access panel. If a camera gets plugged into one of the PoE ports, the security software identifies it and starts monitoring/recording off of it. If a phone gets plugged in, the phone server registers it immediately. There are assigned ports for Ubiquiti radios — One for an access point and one for connecting to area networks including a 4G LTE modem to supply everything with Internet in more remote areas.
The ultra small form factor PC in the middle of the rack plays a vital role as a virtual machine. This PC has 16GB RAM and a 3rd generation i5 processor which is more than enough to support any of the connecting hardware. Server roles include:
File / Web Server
Access Point / User Manager
Asterisk PBX Server
Live Stream Server
Security NVR Server
Attached to the front facing drawer on the rack are two Windows based tablets that can be used to monitor and control various events. I used one to display real-time cellular data usage and the other to view stream output quality.
Also included in the rack is a hardware MP3 instreamer/encoder that can be used to directly upload live HD audio to any relay source including a radio station.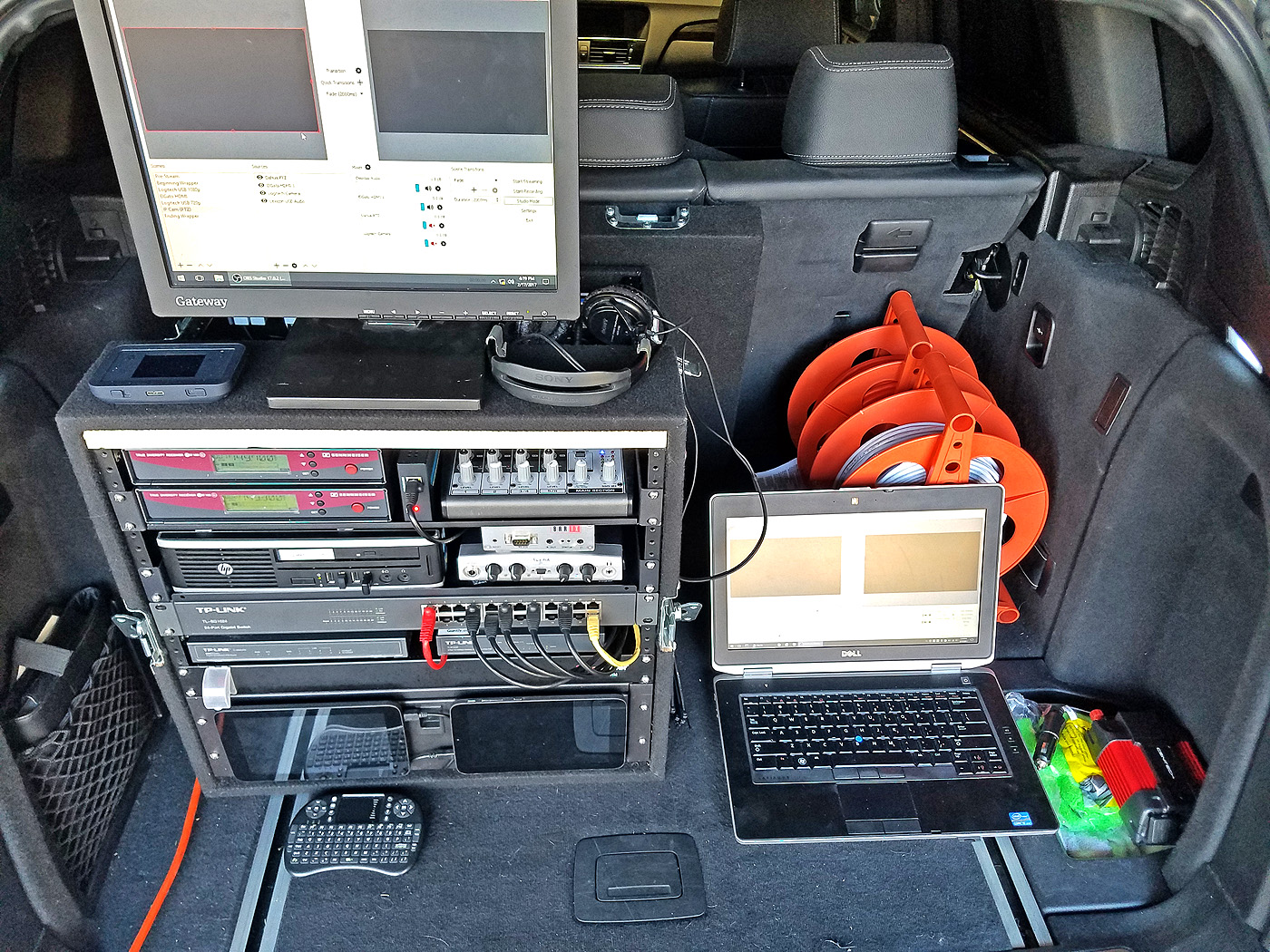 The live stream aspect of this box was the only challenge. Can I stream HD 720p content at 30 frames per second for 3 hours to Facebook without losing a single frame? Can I do all of this on a cellular connection? The answer is absolutely yes, but not without some extensive research and fine tuning. I'll spare you the gritty details and jump into the findings:
Audio

If your audio sounds like it is coming from a tin can, there is no point in producing great video. Lexicon saves the day with a USB powered external capture card that hits 48kHz sample and four inputs.
A little 4-8 channel mixer is strongly encouraged. This is especially true if you are getting a line output from a sound/stage crew and need to add your own audio in as well.

Video

Easily the most expensive part of this box is sourcing a great HDMI capture solution. Multiple HDMI sources can be streamed/recorded at once using a very specific model of capture card. The el Gato HD 60s is an external card that runs off of USB type C and 3.0 only. Special drivers allow up to four of these to run at the same time.
Various live stream/capture software is available for specific scenarios. The way this box is designed, I need OBS Studio (Open Broadcaster) for the various inputs and mixing abilities it offers.
RTSP is a completely viable option and should be explored if stages are in play (bands, performance art, etc). Simply mounting a small PoE powered IP camera on or above the stage makes for a great angle to transition to periodically. PTZ cameras can also be used strategically.

4G LTE / Internet

Do various site surveys of the area weeks before an event. Run speed tests. Do you have at least 10 down / 5 up?  If not, or even if so, tuning the output stream bandwidth is recommended.
Facebook prefers 4000kbps with moderate iFrame count, however on a slower connection it may make sense to dial that down to 3000-3500kbps.
Record the output locally to a file in the event the connection drops.
Necessary Accessories

With any on-site setup, it is absolutely mandatory to bring a toolbox containing just about every adapter and gadget that may be possibly needed. Best to over prepare, correct? At the bottom of the network rack sits a drawer with a variety of items including:
HDMI splitters
HDMI over Ethernet adapters
Wireless keyboard/mouse
Ethernet and HDMI cables of varying sizes and types
USB battery pack
PoE Injectors
IP and USB cameras
Extra 4G LTE modems
Cable ties, screw drivers, and pliers
USB cables
Power strip
Audio cables and microphones
Extra 12V power adapters
USB chargers
The Ultimate Mobile Network now awaits its next deployment after being successfully used at a couple of company events around the metro. The rack was built to handle specific needs, but components can easily be swapped out and replaced with hardware more fitting for scenarios that do not require live streaming, for example. My first thought of where this would work like a dream is live concerts, so I will have to test that environment out soon.
---
---