Tech Tools Worth Considering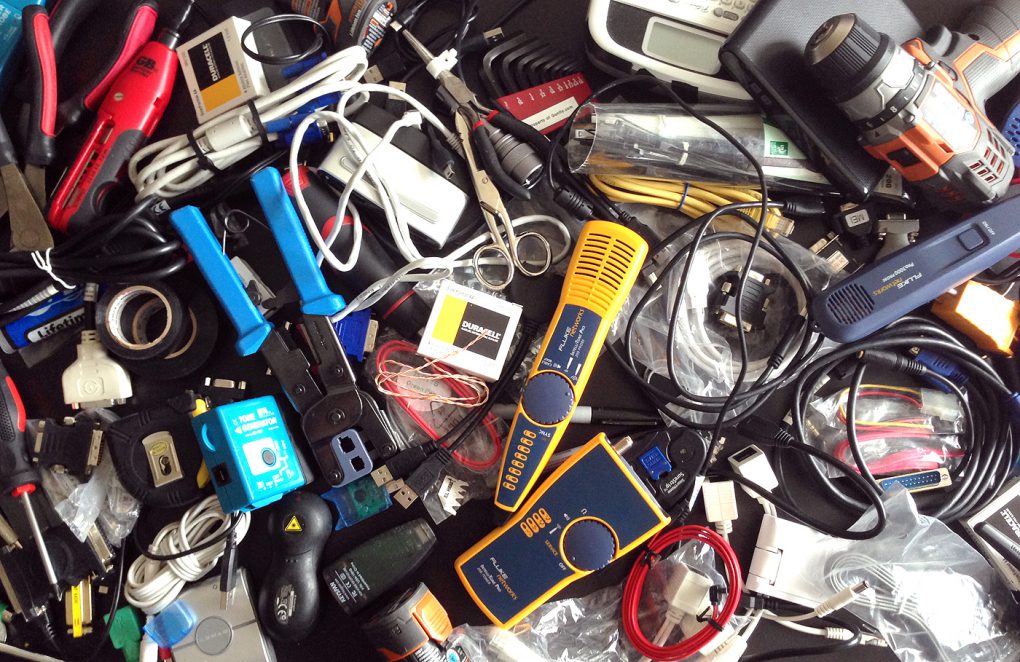 I'm not in the field as much as I used to be, but I certainly understand the value of having every tool imaginable around me at all times. The most frustrating thing is knowing that you needed that one extra USB dongle or device that sits back at your office.
Here are some tools and gadgets that I think many IT and network engineers either have overlooked or haven't considered as part of their survival kit. That is to say, most of these items have saved the day at least once.
USB Multimeter — Growing in popularity every week, 5V sourced devices are becoming the absolute standard for a lot of critical tasks. A USB Multimeter is a great tool for identifying cable quality and whether or not the correct adapters and sources are being used.
HDMI/DVI/DP/VGA adapters — We may never get to a time when VGA is actually considered obsolete, so it's best to carry along at least one or two converters and adapters capable of manipulating video signals to and from HDMI, DVI, VGA, DP, and other protocols.
Nano Travel Router — Picking the correct nano travel router to always have in a tech backpack is essential. Nano travel routers can act as temporary patches for Ethernet/WiFi issues, bridging, or even VPN connectivity on the fly. Choosing a travel router with modified firmware like OpenWRT extends their usefulness.
Windows HDMI Stick — Having a spare laptop in a backpack may seem extra, but how about an extra workstation? Windows HDMI Sticks, such as the Intel Compute Stick, contain full versions of Windows and come packed with enough storage and RAM to actively replace simple workstations or can be used in presentations. Why bring just the PowerPoint slide when you can bring the entire program and operating system in nearly the same form factor?
Office Supplies / Markers — This one may seem obvious or unnecessary to mention, however its wise to consider ancillary items that may not always make the packing list. A variety of permanent marker colors, white out, paper clips, and push pins go a long way and can be a huge help!
Wire Labels — Swapping out large ports or even multiple physical servers or devices with many wires (thermostats, control boards) can involve no room for error. Wire label packs cost only a few dollars and make the process significantly quicker and easier to troubleshoot later.
4G LTE Hotspot — Many network and system administrators believe the tether option on their smartphones is plenty sufficient, and while they may be correct, there are times when the two tasks must be geographically separated for many hours or days at a time. For this reason it makes sense to have an extra active SIM card handy with hardware capable of quickly adopting it into a LAN or bridge environment.
Magnetic Grabber — A retractable life saver for only a couple of dollars. Get one now if it's not already in the gear bag.
USB Hub — A mini 4 port USB hub is becoming more useful in a gear bag than the power strip. USB 3.0 with extra options is always a plus but not as necessary. The goal here is to provide those one or two extra ports that aren't seen on the front/rear of a rack server.
Wireless Mini Keyboard/Mouse — Easily the best and most essential ancillary tool, these mini controllers can be had for around $13-15 and have a few important features to look out for:

Rechargeable, WITH the option to power it and charge via micro USB
2.4GHz dongle requiring zero drivers or setup. This allows BIOS and other pre-boot options to be clicked
F1-12 keys for the important tasks when a KVM or traditional keyboard is nowhere nearby.

First Aid Kit — Just some alcohol prep pads, band aids, and antiseptic solutions. Be sure to keep the contents refreshed and up to date. Store any excess in a home kit.
3M Dual Lock Tape — Everyone who gets the pleasure of using this tape falls in love with it for a number of reasons. It's easy to apply, easy to customize, absurdly strong, leaves no marks or residue when removed, and items can be detached and reattached in a manner that is far beyond traditional Velcro solutions. Several feet of this will last a long time in the gear bag.
PoE Extender/Splitter/Switch/Injector — Power over Ethernet (PoE) is now entering market spaces such as commercial lighting, kiosks, and terminals. The protocol is now used everywhere and anywhere, so it makes sense to have some of the necessary extenders, splitters, and switches handy.
Presentation Clicker — It still amazes me how often the traditional presentation clicker is used and becomes a day saver when the only one that can be found is located in a sysadmin's gear bag. Keeping one idle and ready to go is always a nice accommodation.
USB to VGA/HDMI — Similar to the dongles and adapters involving signal changing, the USB to HDMI/DVI/VGA/etc adapters can be essential in a pinch. Newer USB based video adapters can now support 4K resolution and acceptable video playback for a fraction of the price that they once were.
USB to Ethernet — Most field tech laptops lack bulit-in Ethernet which, as scary of a reality as that is, can be solved by having a couple extra USB to Ethernet adapters. Supporting gigabit and USB3.0, these adapters usually run about $15-20 online.
WD-40 (Mini spray can) — When a can of WD-40 is spotted, the fix-it list presents itself almost instantly. Having the $3 mini spray can variant of this solution always available in a gear bag introduces a new level of problem solving capabilities. (After about a half dozen uses, the can begins to deprecate, so it's best to check levels during use and prepare accordingly.)
---
---